There's a seemingly endless collection of the best hiking places with spectacular views. Short driving time to the mountains, lakes, waterfalls, and beautiful places to hike. Colorado is very popular for its diverse array of beauty from the easy and short trail of Denver's Iconic Red Rock Parks, to the High Country Rocky Mountain National park that requires a long drive. Just bring your pet or your loved ones and enjoy the ride.
Today, we're going to talk more about the best hiking trails in Denver that you shouldn't miss out if you love adventure and mind-blowing scenery.
1. ELK FALLS OVERLOOK
Difficulty: 7
Distance from Denver: 39 miles
Elk Falls is one of Staunton State Park's hidden gem. This falls passes through massive granite and large ponderosa pine. Elk Falls is prominent for being the tallest waterfall begins which elevates at 8,200 feet and gains an addition of nine-hundred feet. Nearly 4000 acres offers a lot of cool things for you and your family to enjoy, including streams to cool your feet off in, a well-varied natural rock climbing area, and of course if you love fishing, then Elk Falls Pond is the right place to go.
Tired and hungry from hiking? Taspen's Cosmic Kitchen will surely have you salivating with joy because they serve quick, healthy, and organic burgers made from Colorado yak along with chicken pot pie. Up for something more adventurous and mouthwatering culinary then Bucksnort Saloon won't let you down. This real mountain bar is popular for its Old west vibe and graffiti-covered offering great food, drinks, and authentic mountain charm.
Surely, you don't want to miss out the Elk Falls when you visit Denver.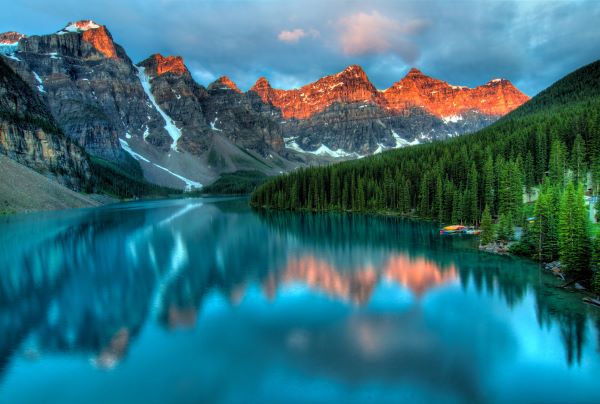 2. WILD BASIN IN ROCKY MOUNTAIN NATIONAL PARK
Difficulty: 8
Distance from Denver: 0.5 to 12 miles
Located north of Indian Peaks and Wilderness area and south of Estes Park, the Wild Basin of Rocky Mountain National Park is the wildest hiking place near Denver. If you're going to Rocky Mountain National Park, you'll have a surprising list of lakes and places to hike but one of the most famous is Wild Basin. As you hike your way up there, you'll meet the enchanting Copeland Falls which is only half a mile from the main trail. Then, Calypso Cascade named for the dashing calypso orchid that grows on its border.
As you hike further into the Wild Basin, you'll soon witness the beauty and pass through superb river scenery in Ouzel Falls, hikers will find the former reservoir, with excellent wildflower displays at Bluebird Lake which can be found at Wild Basin trail network.
Even though the Wild Basin is 90 minutes' drive time from Denver, with its beauty, layered collection of lakes, and adventurous hiking trail it's not a secret why locals and visitors looking for fun love this place. What are you waiting for? Pack up your hiking bag and head over to Rocky Mountain National Park, home to the wildest hiking area Wild Basin.
3. STONE LAKE
Difficulty: 9
Distance from Denver: 96 miles
Hikes who love exploring something hidden and underrated rather than go where everyone goes, Stone Lake will leave you in awe. Winner for its classic hike to a mountainous lake. About halfway to the lake, offers wild raspberries for most of the year, and the open area hosts the remains of an old cabin. The surprisingly heavenly Hell Canyon is a sign that you're about to reach the last, brutal mounting to the lake.
4. Barr Trail
Difficulty: 10
Distance from Denver: 55 miles
Have you put an extreme 14er climb on your bucket list? Then Barr Trail will help you check that off of the list. The Pike Peak Barr Trail is definitely not the easiest to climb, but one of the most beloved of adventure seeker. Leave at the crack of dawn, prepare to camp there. There is a Barr Camp, just 6.5 miles from the trail that accommodates hikers and provides clean restrooms, indoor seating, and even picnic tables. There are restaurants you can find including Manitou Springs, cozy Adam's Mountain Cafe, and Manitou Brewing Company.
It's the best place to go during summer and fall months when the leaves are changing, and it's possible to find snow or ice on the trail which will make the hike unforgettable. For safety tips, make sure to start hiking as early as possible. Dress appropriately and bring layer, temperature can be -40 F at the peak. Bring plenty of snacks and drinks because the hike will take 6 to 10 hours. In-shape hikers where you at? Barr Trail is waiting for you.